Year 9 is an exciting year where students are able to cement the valuable organisation and study skills they have developed. Students now have some choice in their learning as they study elective subjects for the first time.
Year 9 is also a time where friendships are expanded and students are expected to demonstrate maturity in the classroom and playground. We continue to focus our core values of Compassion, Appreciation, Respect and Endurance, with various activities and projects throughout the year.
Many of these ideas also come together during our extra-curricular activities, including our Reflection and Community Days. One day involves a professional presenter and musician who joins us to reflect on relationships and self-awareness. It is an important step in the journey to adulthood and to being a really cohesive year group. This year we are focusing on building student capacity for leadership as they progress into Stage 5.
An exciting change to the Year 9 program is the addition of a camp in 2023. This event will encourage students to build and create relationships with their peers and develop resilience and capacity to try new things. Year 9 students also complete Leadership training towards the end of the year with an external training group.
The Brainstorm Production this year will address issues related to mental health with a specific focus on effective communication.
We will continue our participation in charity campaigns as a way of giving back to our community, beginning by leading the school in Project Compassion initiatives for Term 1.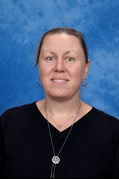 Mrs Tracey Evans  
Leader of Wellbeing and Engagement